The venue for your next golf weekend break away needs to be close enough to home to make it an easy return journey without losing too much time at work or waiting around at the airport, with your golf resort destination also close to your arrival airport plus your chosen golf courses need to be near to your accommodation to further minimise travelling time to play golf after you have arrived.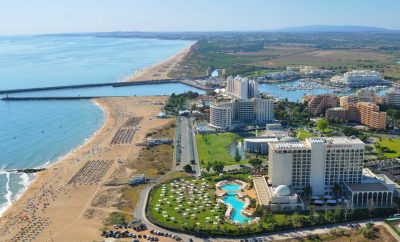 The obvious choice for a golf weekend away is of course Vilamoura in the Algarve where the transfer time from Faro Airport is only 25 minutes and you have over a dozen superb golf courses within a few minutes of the resort.
However, there are also a number of other excellent locations that we can recommend as a great option for a quick weekend golf break in the sunshine!
The wonderful city of Seville – the capital of Andalucia – is also a great choice for a weekend golf break in the sunshine.  Although flights to the city can sometimes be a bit tricky to source from the UK, once you have actually arrived the beautiful location, culture and splendid Seville golf courses are sure to please all holidaying golfers!
With a good selection of flights to Gibraltar, there are plenty of excellent courses within 30 mins of Gibraltar La Linea including some of Spain's Finest golf courses – with the Sotogrande golfing estate featuring world renowned courses like Real Valderrama, La Reserva de Sotogrande and with plenty of other superb courses nearby like San Roque Old & New, Alcaidesa Links & Heathland, Almenara and many many more!
The golfing area around Portugal's capital city of Lisbon is also a great venue for a quick getaway on a golf weekend and the main airport is well served with flights from the UK and the rest of Europe.  The area to the west of the city centre around Cascais tends to be the most popular destination for most golfing groups with a range of excellent 4 & 5 star hotels and plenty of championship standard golf courses, but we strongly recommend staying in the city centre of Lisbon itself for a short golf break as you will have all the bars, restaurants and other nightlife right on yoiur doorstep, you will be closer to the airport and the golf courses to the North, East and South of the city centre will also be easily accessible to you in addition to those out towards Cascais to the West.
Check out our recommended selection of golf weekend breaks venues below and contact us to discuss your specific requirements and for a bespoke quotation.